Couple Marries Following Instagram Relationship
In an unlikely twist of fate, two once broken souls find love again on social media. Erica Harris, a mother of three from Murietta, CA and Arte Vann a chef from New York met through a mutual friends' post on Instagram one year ago. The relationship started like any other, with a mutual interest and flirting with one and other. However, the flirting took place through the form of likes and comments on Instagram. The couple had an almost 'instant' connection through the social media platform. What started as a comment, a like, and a follow, turned into long phone calls between the two. They would chat for hours on end on the phone, falling asleep at times due to their long conversations.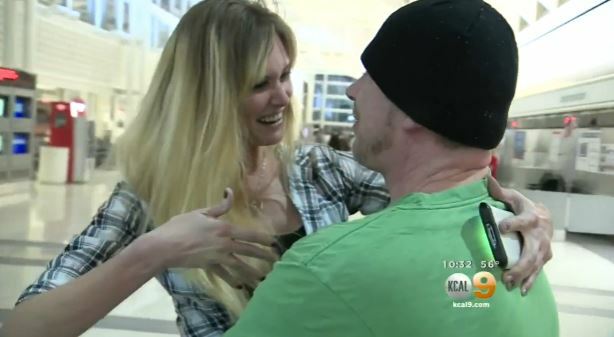 Despite living on opposite coasts, Erica and Arte wanted to finally meet in person. Arte, a head chef at a resort in NY, made the leap and purchased a one-way ticket to California. Erica waited patiently at the Ontario, CA airport for his arrival. Once Arte made his way down the escalator, Erica jumped (literally) into his arms, Ugg boots wrapped around his waist in an ecstatic embrace. Shortly thereafter Arte got down on one knee to propose and the rest is history. They got insta-engaged and insta-married in the Ontario airport and plan on 'figuring out logistics' together, as they go. The couple said they didn't expect all of this attention from their social media romance, but are happy that it will give hope to others out there looking for love.